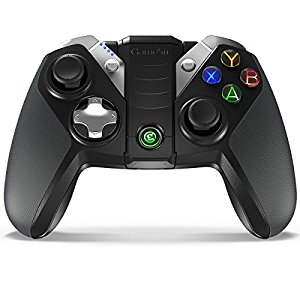 Rating: 0 Posted By: Respawn
Views: 8 Replies: 0
GameSir G4 Bluetooth Gaming Controller for Android, Samsung Gear VR and Oculus – $ 24.00 @ Amazon
Compatible with Android 4.0 and up devices, such as smartphone, tablets, smart TV, as well as the SamsungGear VR and other android OS VR, support thousands of controller-enable games. Connections: Bluetooth 4.0
Ergonomic, and attractive design with top-toughened materials, brief and smooth streamline, it feels firmly, and comfortable to your palm with the texturing in the surface. The layout of the buttons is so humanized as to operate fluently and efficiently.
Portable built-in bracket with two adjustable angles (110 degrees & 150 degrees), can be used as an individual mobile holder for 3.5~6-inch smart phones.
Analogue sticks have 360-degree positioning with ultra-accuracy and almost no handle dead-zone. The button life is more than 2 million times. The trigger adopts of metallic design, with dazzling shape, avoid slippery when sweating. Firm bumpers and responsive pressure triggers allow you perform great in car racing and drifting games.
Changeable position of D-pad & the left joysticks, Play the games in the way you like. Adjustable vibration intensity allows you to have a real feedback in different scenes of games.Chargeable battery can last 10 hours for Max Power while 30 hours for Min Power, stand-by time can last at least 12 months.


Fatwallet.com Hot Deals