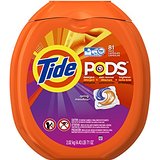 Rating: 0 Posted By: ShoppingChick
Views: 63 Replies: 0
Tide Pods He Turbo Laundry Detergent Packs (81-ct) –$ 14.99 w/ S&S and clipped coupon
https://www.amazon.com/Tide-Laundry-Detergent-Spring-Meadow/dp/B01BUNHFQM
Amazon has theTide Pods He Turbo Laundry Detergent Packs, Spring Meadow, 81 Countfor $ 18.99 w/ Subscribe & Save – $ 5.00 clipped coupon =$ 14.99withfree shipping. With Subscribe & Save subscriptionsyou are able to select your recurring delivery date from once a monthto once every 6 months. Also, keep in mind that you can cancel at any time.

3-in-1 laundrypacs: detergent, stain remover, brightener.
1 laundrypacfor regular loads, 2pacsfor large loads and 3pacsfor extra large loads.
Dissolve quickly in hot & cold.
Spring Meadow Scent is specially formulated with HE Turbo technology that contains quick collapsing suds and targets tough stains.

This is an Amazon's #1 Best Seller in Laundry Detergent Pacs & Tablets. It's highly rated with 4.5 out of 5 stars from 596 Amazon customer reviews.
Merchants on
Google Shopping
have it priced at $ 19.99 or more.

Fatwallet.com Hot Deals