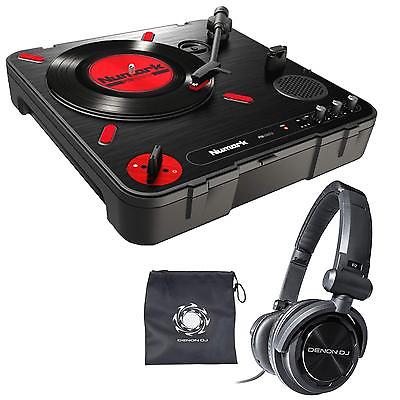 Rating: 0 Posted By: ctgolfer
Views: 1 Replies: 0
Numark PT01 Scratch Portable Turntable with Denon DJ HP600 DJ Headphones$ 149.99 by idjnow
http://www.ebay.com/itm/Numark-PT01-Scratch-Portable-Turntable-with-Denon-DJ-HP600-DJ-Headphones-/162301479718
Numark PT01 Scratch Portable Turntable with DJ Scratch Switch
The New Era of Scratch
Its a new era for DJs! With the PT01 Scratch portable turntable, you can scratch and cutanywhere. Built with Numarks exclusive Adjustable Scratch Switch, PT01 Scratch enables you to grab your favorite scratch record (not included) and perform any turntablist scratch routine, whether you have access to AC wall power or youre outdoors with your friends.
While keeping FRESH with a dope paint job, PT01 Scratch is designed for any DJ that is passionate for the art of turntablism and enjoy digging for vinyl records.
Transform, Cut, and Scratch
Yes! Theres an Adjustable Scratch Switch that gives you the perfect way to scratch, plus its adjustable for either right-handed or left-handed scratching styles. You can simply unscrew the scratch switch and adjust it to your style. Our scratch and slide switch performs longer than ordinary sliders, plus, unlike others, its user-replaceable, so the action never stops! PT01 Scratch comes equipped with a red slip-mat to perform light to heavy-handed scratches with your scratch records.
Battle anybodywe dont care who you tell!
Connect your phone or any audio source to play a background beat through the 1/8 stereo input and scratch along to the beat. Increase the volume with the gain control and play it loud and strong on the built-in speaker. You can also connect PT01 Scratch to other equipment via the RCA stereo outputs or use the headphone output for private listening.
Record digitally to your laptop
In addition to scratching and having fun, you also have the capability to record your vinyl digitally via USB to your laptop (with free downloadable software).
Portability and Battery
PT01 Scratch plugs into a wall outlet (AC wall adapter included) and it also runs on batteries. Its enclosed in a hard case for protection and has a sleek red handle to carry it anywhere.
PT01 Scratch features at a glance:
Built-in adjustable Scratch Slide Switch.
User-replaceable scratch slide-switch keeps the action going.
Protective dust cover and integrated carrying handle.
Wall-powered with included AC adapter or six batteries(not included).
Built-in speaker.
Cartridge included.
Removable slip-mat.
Class-compliant USB connection for PC recording.
33 1/3, 45 and 78 RPM settings.
RCA line and headphone outputs.
1/8″ Aux input with adjustable volume.
Denon DJ HP600 High-performance DJ Headphones
Building on the success of our previous HP headphone line-up, these new models offer an extremely high level of acoustic performance, comfort and portability, making them ideal for many scenarios, including professional DJ use, individuals who wear headphones in long studio mix-down sessions and critical recreational audio listening. Swiveling earcups for one-handed monitoring, dual connectors and folding design make them as convenient to use as they are great sounding.
Heres a closer look at the HP600 High Performance DJ Headphones
Denon DJs HP600 headphones are the perfect solution when the need is great sound quality and outstanding value. They feature powerful 40mm drivers for outstanding performance that is unexpected at their modest price. With their wide-range frequency response, 1300mW of power handling and sturdy metal headband, the HP600 sounds great and is well-suited to all-night use. Swiveling ear cups make single-handed monitoring easy and they fold up for easy storage and transport. Dual 1/8 and connectors ensure compatibility with all equipment.
HP600 Features:
40mm drivers deliver articulate, wide-range sound.
Handles 1300mW of input power.
Swivel ear cups for easy one-ear monitoring.
Compact folding design for convenient portability.
Semi-Coiled soft insulated cord.
Reinforced cable strain for reliability.
Replaceable Ear Pads (optional).

Fatwallet.com Hot Deals