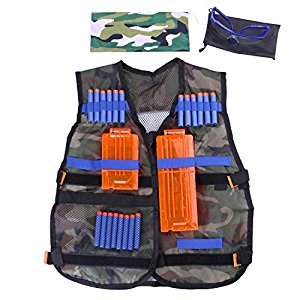 Rating: 0 Posted By: Virgil27
Views: 36 Replies: 0
Fody Camo Tactical Vest Kit$ 15.99
https://www.amazon.com/Fody-Tactical-N-Strike-20-Dart-Camouflage/dp/B01N9LP8KU
Tactical Vest Kit lets you carry along lots of extra firepower.
Elite Tactical Vest features: Storage pockets for an extra blaster and for extra Quick Reload Clips, made using safe and breathable materials, fit for both adults and kids, the size of Vest could be adjusted.
5-Dart Quick Reload Clip and 12-Dart Quick Reload Clip are compatible with any N-Strike Elite blaster. 20-Dart Refill are compatible with Nerf Elite blasters and most original N-Strike Blasters.
Vision Gear eyewear Gives you the sharp look of a serious competitor, Safety Eyewear for Shooting, Gun range, Airsoft, Nerf guns, Racquetball, Water Balloon Fight. The camo seamless face tube mask make team playing Stark.
All products tested and approved for performance and quality, you can get our 18-month warranty and friendly customer service.

Fatwallet.com Hot Deals