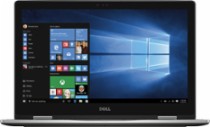 Rating: 0 Posted By: ragingwookiee
Views: 192 Replies: 0
Dell – Inspiron 2-in-1 15.6″ Laptop – Intel Core i7 – 12GB Memory – 512GB Solid State Drive$ 749.99
http://www.bestbuy.com/site/dell-inspiron-2-in-1-15-6-touch-screen-laptop-intel-core-i7-12gb-memory-512gb-solid-state-drive-gray/5606601.p?skuId=5606601
15.6″ Full HD touch screen for hands-on controlThe 1920 x 1080 resolution boasts impressive color and clarity. Natural finger-touch navigation makes the most of Windows 10. IPS technology. LED backlight.
7th Gen Intel Core? i7-7500U mobile processorUltra-low-voltage platform. Dual-core, four-way processing performance. Intel Turbo Boost Technology delivers dynamic extra power when you need it.
12GB system memory for full-power multitaskingPlenty of high-bandwidth RAM to smoothly run your games and photo- and video-editing applications, as well as multiple programs and browser tabs all at once.
512GB solid state drive (SSD)While offering less storage space than a hard drive, a flash-based SSD has no moving parts, resulting in faster start-up times and data access, no noise, and reduced heat production and power draw on the battery.

Fatwallet.com Hot Deals